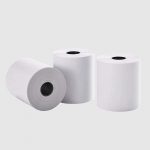 Thermal Paper Rolls 57×40
Greatshine Paper only supply the Top A grade of Thermal Paper Rolls, our Thermal Paper with high whiteness, smoothness which can guarantee nice printing image and long storage after printing.
Description
Specification
More Information
Package: shrink wrapping, carton with free-printed logo; OEM wrapping.
Paper Type: thermal paper, BPA-Free thermal paper.
Image: black, blue.
Core Material: plastic core, paper core, honey comb core, coreless.
Advantages of Greatshine Paper
• The whiteness, gloss, smoothness of thermalpaper can delivera clear and dark image.
• Smooth surface with lowest fray onthermal paperprinter heads.
• It can be printed with logo or other customized image on front or back side of thermal paper at competitive price.
• 5 years image life in normal condition storage.